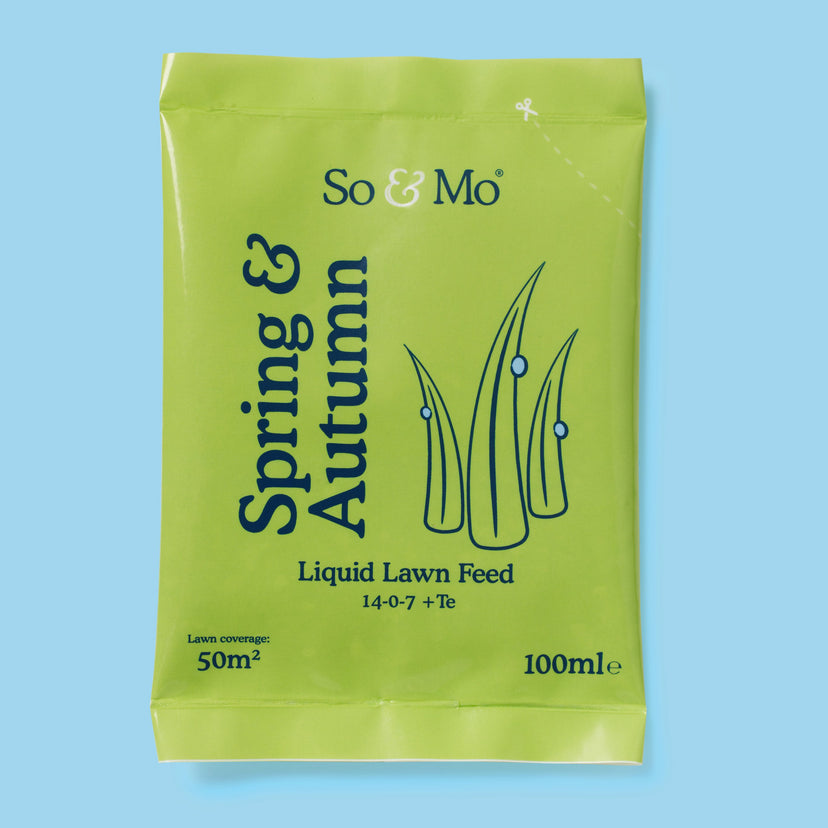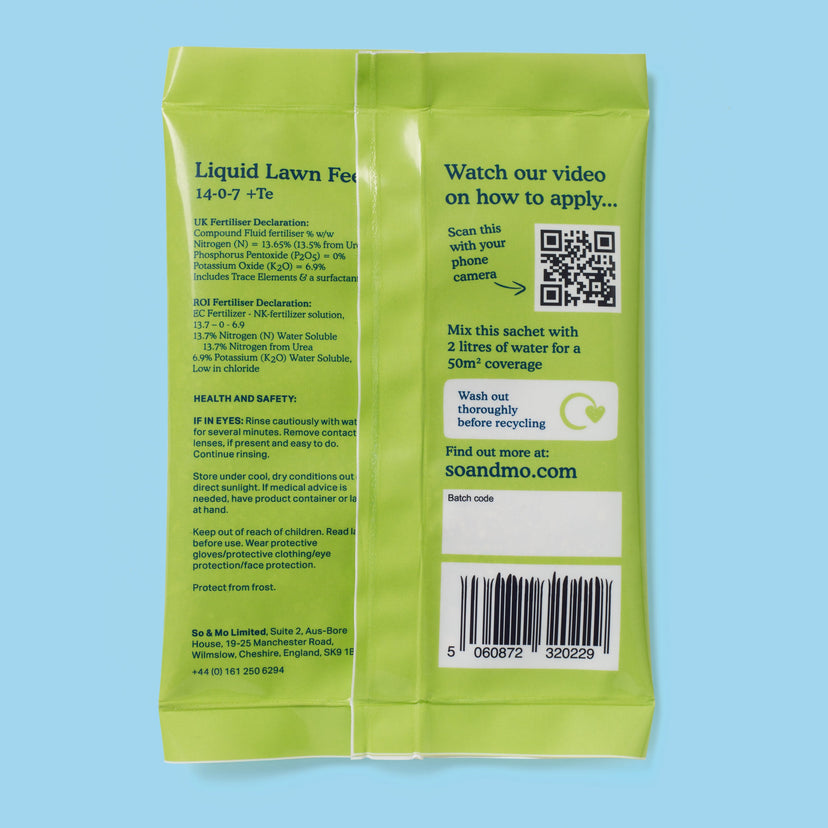 Spring & Autumn Liquid Lawn Feed
New feed delivery every 2 months

Liquid feed for easy & accurate application

Results in as little as 3 Days
Professionally developed by agronomists to include all the ingredients needed to help fight disease and build a strong, healthy, vibrant lawn that's engineered to work with your lawn at the right time in the right way for year round performance.
RECYCLABLE PACKAGING

Delivered direct

1 TREE PLANTED EVERY ORDER
Frequently asked questions
To keep your lawn healthy and in tip top condition a steady supply of quality nutrients is a must.
Without this supply the grass will not perform, re-growth will be slow and the roots will be weakened leading to disease and bare patches.
Yes of course. We always recommend giving your last at least 3 feeds to start to see the best results.
Our liquid feeds need to be applied by a sprayer. Any brand will work perfectly with our plan as long as it is fitted with a flat fan nozzle and we advise getting a sprayer with the right litre capacity you need for your lawn size.
Our plan is designed to build a healthy, strong and disease resistant lawn so there is currently no weed control. We advise to manually remove any weeds or if your weed problem is more severe please get in touch for advice.
Not a problem, we'll send you a feed straight away to get you started. Your second application will be part of the plan and you'll get a feed every 2 months after.
Our nutrients will improve soil health, encouraging thicker and fuller grass growth. However, our lawn feed doesn't contain any grass seed so any significant bare areas will require reseeding. Our Grass Seed is now available.
Yes. Our liquid feeds are child and pet friendly. We do however advise to keep them at a distance whilst mixing and applying and allow a day before going back on the grass to allow time for the foliar uptake to take effect.
Our lawn feeds will not affect your plants at all. There is a lot of crossover between lawn feed and plant feed so do not worry if any goes on your plants.
We calculate the correct amount to send based on a perimeter lap and 2 passes with our sprayers. You may have to adjust your pace or amount based on your sprayer for the next application.
A difference will be able to be seen within around 3 days however dependant on your previous feeding plan it can take a few applications to get a great baseline for your lawn.
We always recommend using proper PPE such as boots, gloves and eyewear. Our formulations however are not hazardous.
If you're cutting your lawn ag a lower hight and quite frequently then our subscription might leave your lawn needing a boost. This can be combined with our single bottles.
We wouldn't advise applying in the rain. Best ti wait for a still dry day even if this is a few days away.
This definitely wouldn't be a good idea. Extremely hard to control and get an even distribution of the liquid. Leave the sprayer alone until a still day.
Not at all, any sprayer with a flat fan nozzle will be able to apply our liquid feeds.
Still in seed firm, no. Our feeds are absorbed into the plant via a sward so germination needs to take place for our feeds to be applied. The good news is grass seed has a small amount of fertiliser inside to give it the strength to break out.